A Truly Unique Arsenic Removal System
NOW NSF/ANSI/CAN 61 Certified!
ISOLUX® is a proven, affordable water treatment solution designed specifically to remove arsenic from drinking water.
ISOLUX® systems are built for reliability and convenience with easy-to-load sealed media cartridges in stainless steel housings. The ISOLUX® Zirconium adsorption media is specially formulated for arsenic removal. ISOLUX® there is no backwashing, no bulk media to dispose of.
And now, ISOLUX® arsenic removal systems are NSF/ANSI/CAN 61 certified. All freestanding and skid models are certified as packages that include 304 stainless steel housings together with pre-filters to be drop-in ready for simple, quick installation.
ISOLUX® is ideal for applications such as such as multi-user wells, office complexes, hotels and casinos, rural water utilities, schools, RV parks and campgrounds, mines and industrial arsenic water treatment.
Worried about meeting Arsenic regulations? Need a minimal maintenance system that's not going to break your budget? Call us.
Its unique features make ISOLUX® the clear choice for small to medium commercial and industrial and water systems from 15 gpm up to 600 gpm.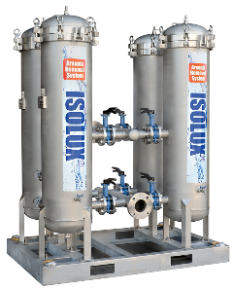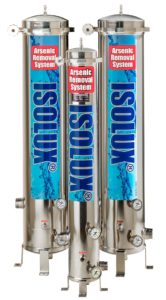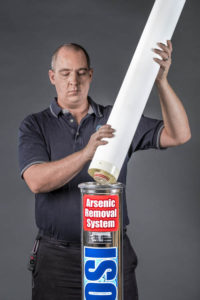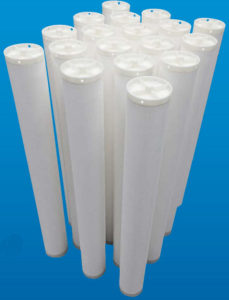 Unmatched Quality & Performance
The patented NSF certified Zirconium Hydroxide adsorption media sets ISOLUX® head & shoulders above all others. The specially formulated Zirconium forms an immediate, non-leachable arsenic bond that removes Arsenic III and V simultaneously.
What's more, ISOLUX® is the only Arsenic removal media verified to deliver non-detect (zero level) removal performance.
Stainless Steel housings in seven standard sizes.
Custom engineered systems available to 600 gpm.
Zirconium filter media with an unparalleled non-leachable arsenic bond.
Non-toxic. Media passed USEPA TCLP and California Wet Tests*.
Media NSF 61 certified for drinking water use.
Imparts no odor, taste or color to water.
Affordability
ISOLUX® Commercial Treatment Systems are competitively priced, self-contained arsenic removal solutions built specifically to address small water system challenges. ISOLUX® commercial systems are automatic, reliable and cost effective to operate.
Won't break small water system budgets.
No complicated, multi-man maintenance requirements.
Excellent lifecycle costing. Removes arsenic – reliably– year after year.
No water wasted. No wastewater produced.
Convenience
ISOLUX® maintenance is simple. There is no need to backwash. No wastewater or spent media to dispose of. Usually just periodic testing and annual one-man cartridge replacement.
Simple, clean, user-friendly cartridge system.
No backwashing required or regeneration.
Convenient garbage can spent cartridge disposal. *
Simple to operate.
Turnkey kits for fast, easy installation.
Small footprints.
No need to tie into a drain or sewer system..
* USEPA TCLP tested as non-hazardous waste safe for landfill, but due to variances in influent water quality, users are urged to perform independent verification of the nonhazardous character of spent media cartridges. Additionally, some states may have disposal criteria different from Federal guidelines (TCLP)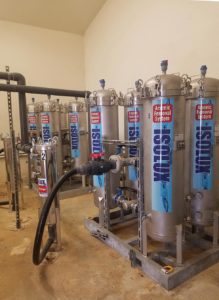 200 GPM ISOLUX system
USMC Base Officer's Quarters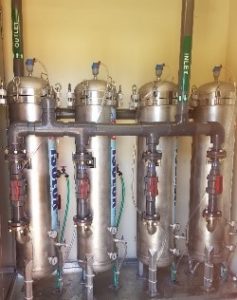 100 GPM system
Border Patrol Station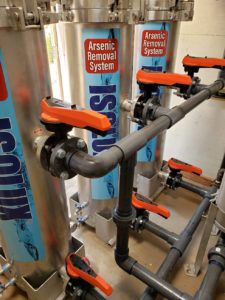 100 GPM ISOLUX® system
La Mesa Water Cooperative