ISOLUX® Arsenic Removal Systems – Now NSF 61 Certified!
The unique, affordable ISOLUX® Arsenic treatment systems are available in seven standard sizes 5, 10, 15, 20 and 25 GPM freestanding systems and 50 & 100 GPM skid units, and now all are NSF/ANSI/CAN 61 certified!
All ISOLUX® systems feature user-friendly sealed media cartridges in stainless steel housings complete with prefilters.
NEW! 50 and 100 GPM Housing Skids. Available in stock for quick delivery.
ISOLUX® Multi-Unit skids are self-contained arsenic removal solutions for small water systems, multi-user wells and a full range of commercial applications.
Designed to deliver years of trouble-free performance all skid housings are in 304 stainless steel. Multiple skids can be combined to accommodate flow rate requirements up to 600 GPM.
ISOLUX® skids are truly simple to install and operate using the easy-to-load, sealed ISOLUX® cartridges.
Installation plumbing work is minimal. There is no waste stream or sewer hook-up required.
No Complicated Maintenance or Arsenic Filter Media Replacement. No need to backwash! No hazardous wastewater! No maintenance downtime! Lead-Lag vessel configuration also allows continuous operation during cartridge change-out.

25 GPM Point Of Entry System
ISOLUX Commercial Systems
The ISOLUX® 20 and 25 GPM Commercial Systems are ideal for schools, hotels, small RV parks and multi-user wells. Again they feature the easy to handle ISOLUX cartridges in a stainless steel housing, and come in turnkey kits for simple, fast installation. Since no wastewater is produced, there's no need to tie into a drain or sewer system.
No backwashing is needed and there is minimal maintenance except for periodic cartridge replacement and water testing. Finally, once cartridges are replaced, spent ones can just be thrown in the garbage bin.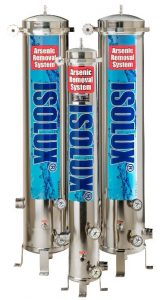 5, 10 and 15 GPM Point-Of-Entry systems
ISOLUX® Point-Of-Entry Arsenic Removal Systems
The ISOLUX® 5, 10 and 15 GPM Point-Of-Entry systems are whole house and light commercial arsenic removal solutions. Using a patented, Zirconium adsorption filter, ISOLUX® removes Arsenic III and Arsenic V simultaneously and reliably year after year. There's no backwashing and little maintenance except for annual cartridge replacement homeowners and maintenance people can do themselves.
Custom Engineered Arsenic Filtration Systems
ISOLUX® Engineered Housing Skids are custom designed and built to match exact application requirements.
Available in either 304 or 316 stainless steel, with a variety of layouts and design options including custom housing vessels, catwalks, ladders and platforms.
* Due to variances in influent water quality, users are urged to perform independent verification of the non-hazardous character of spent media cartridges. Additionally, some states may have disposal criteria different from Federal guidelines (TCLP).
Contact us for Arsenic filtration. Let's take a look at your water analysis and get started.