In order to understand and discuss your application and Arsenic concerns, we need a clear picture of your water system and conditions. Please fill out the following form as completely as possible.
It Starts With A Water Analysis
The Clear Choice For Convenience, Performance & Affordability.

Unmatched for Quality & Convenience, ISOLUX® Arsenic Removal Systems Now NSF 61 Certified
ISOLUX® arsenic removal systems are now NSF/ANSI/CAN 61 certified. Water system regulators and users alike look to NSF 61 standards for assurance of drinking water safety and quality.
All ISOLUX® freestanding and skid systems are NSF 61 certified as packages that include 304 stainless steel housings together with stainless steel or polypropylene pre-filters to be drop-in ready for simple, quick installation.
Enhanced with NSF system certification, ISOLUX® can deliver exceptional 99% to non-detect removal performance even in extremely high Arsenic concentrations!
ISOLUX is considered the most user-friendly commercial system on the market.
No backwashing
No hazardous waste streams
No bulk media replacement – just periodic one-man cartridge exchange
Drop-in-ready installation
"We pride ourselves on exceeding our customer quality requirements", said Richard Sinclair, President of Applied Process Equipment, Inc. "We went through extensive NSF 61 testing and multiple ISOLUX® product refinements in order to offer our customers systems that are completely drop-in-ready certified for potable water."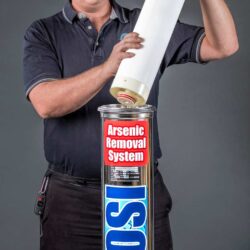 ISOLUX® Arsenic Removal System
Headquartered in Scottsdale, Arizona, ISOLUX®is a manufacturer of drinking water treatment equipment. Our specialty is Arsenic removal. Our focus is in solving water Arsenic contamination challenges for small water systems.
All ISOLUX® systems use cartridges filled with a patented Zirconium filter media that has been verified for virtually complete AsIII and AsV Arsenic removal. There's no backwashing or regeneration, and practically no maintenance beyond cartridge replacement.
We truly believe ISOLUX® offers you best Arsenic treatment systems on the market today.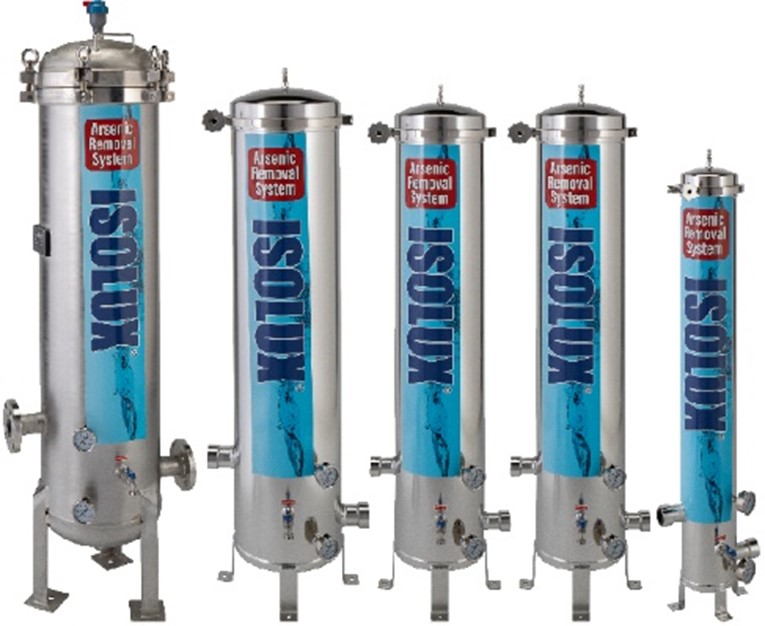 ISOLUX® Freestanding 5, 10, 15, 20 and 25 GPM models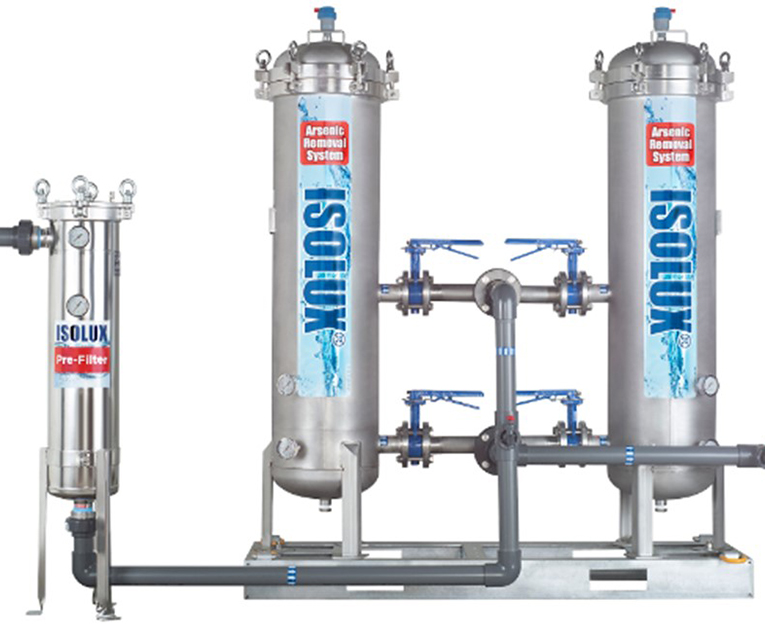 ISOLUX® 50 GPM Skid
ISO-05-SS, ISO-10-SS, ISO-15-SS, ISO-20-SS, ISO-25-SS, ISO-50-SK, and ISO-100-SK have been certified by IAPMO R&T against standard NSF/ANSI/CAN 61 and 372 for material safety and lead-free requirements. Not certified for contaminant reduction or structural integrity by IAPMO R&T.
ISOLUX Arsenic Removal systems are manufactured by Applied Process Equipment, Inc.
01.
Zirconium Technology
The ISOLUX® Zirconium Technology Is Truly Unique.
Not all Arsenic removal medias are alike. The patented Zirconium Hydroxide adsorption media sets ISOLUX® shoulders above all other arsenic treatment technologies. Until now, you might not have heard of it, but Zirconium has been used for decades worldwide for arsenic removal.
02.
The ISOLUX® Advantage
Designed For Performance and Convenience
ISOLUX® delivers unmatched performance with the simultaneous removal of both AsIII and AsV to non-detect (zero) levels. The simple, user-friendly ISOLUX cartridge system needs no backwashing and little or no operator attention beyond periodic cartridge replacement.
03.
Small Water System Answer
The Affordable Option For Small Water Systems
ISOLUX® typically offers the lowest Total Cost of Ownership considering upfront capital costs and ongoing operation and maintenance. It has proven ideal for rural and shared well drinking water systems across the country including subdivisions, schools, hotels, restaurants and mobile home parks.